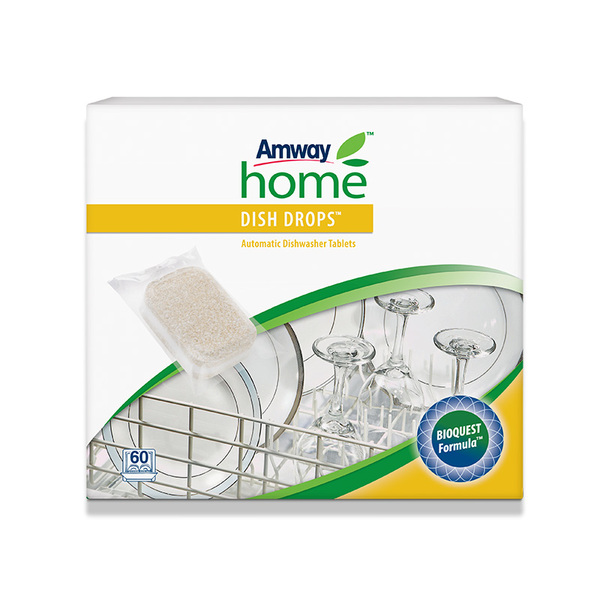 Effective dishwasher tablets in dissolvable wrappers. The improved soft water performance considerably reduces the risk of glass etching. They work brilliantly even at 40°C for greater energy savings. New and improved good for the environment, all-in-one dishwasher tablets for deep cleaning with brilliant shine. Made with over 90% plant-based and mineral ingredients.
How to buy
Product code:109867
The BIOQUEST™ formula* delivers powerful cleaning performance and is concentrated and biodegradable.
Great cleaning results without having to pre-rinse.
Effectively cuts through caked on food with enzyme activated cleaning power.
Up to 15% improved stain removal over previous tablet.
Does not visibly etch glass.
For perfect results at 40°C.
Over 90% of formula derived from plants and minerals.
Biodegradable formula, free from phosphates, chlorine, fragrance, dye and boron.
*The BIOQUEST formula is based on effective, naturally-sourced ingredients that do not harm the environment.
What It Does For You
Dish Drops™ Automatic Dishwasher Tablets are an all-in-one formula.
Tough on caked on food – brilliant shine.
The tablets contain rinse aid, builder, amylase, protease, oxygen bleach, soil dispersant.
Each tablet is wrapped in a dissolvable film.
Formulated to reduce spotting and filming on glassware and does not visibly etch glassware.
Enzyme activated cleaning.
Why You Would Like It
Each tablet provides powerful cleaning performance at 40°C.
Convenient tablets – no need to measure.
Just toss and go – no need to remove tablet from wrapper.
Over 90% of formula derived from plants and minerals.
FSC-recognised, fully recyclable carton, made from 100% recycled material.
Facts For You
Up to 15% improved stain removal over previous tablet.
All-in-one formula.
Does not contain salt. No salt needs to be added.*
Does not contain TAED (tetraacetylethylenediamine).
Biodegradable according to OECD measurement methods.
*For optimal performance in regions with very hard water (>21dH), we strongly recommend using salt in the dishwasher's salt compartment (and a rinse aid) according to the manufacturer's instructions to ensure maximum performance

DANGER
Causes skin irritation. Causes serious eye irritation. Contains Subtilisin. May produce an allergic reaction. Wear eye protection/face protection. IF IN EYES: Rinse cautiously with water for several minutes. Remove contact lenses, if present and easy to do. Continue rinsing. Dispose of contents at municipal collection point; Dispose of completely emptied containers for recycling. If medical advice is needed, have product container or label at hand. Keep out of reach of children.