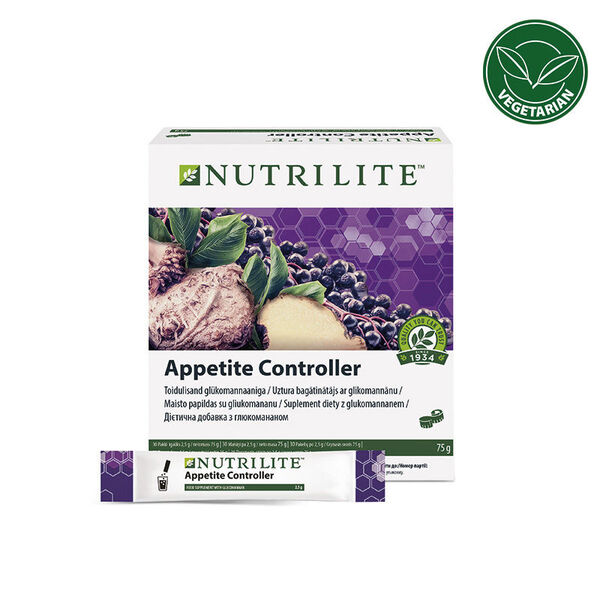 Food supplement with glucomannan that helps you take control of your weight management and fight the urge to overeat.
What It Does For You
Helps you limit portion size, and still feel satiated. When mixed with liquid it takes up space in your stomach creating the sensation of fullness.
Starts taming your appetite immediately – your first serving will help you feel fuller before and during your next meal.
Makes weight management easier – each serving comes in its own sachet and can be mixed easily with juice or water in just seconds.
It is tasteless, so can be mixed with water or favourite juice without effecting the flavour.
Why You Would Like It
Appetite Controller is a food supplement that helps you control your appetite and fight overeating. When you're in control of your appetite, weight management becomes easier. With Appetite Controller, you can still enjoy your food but you're more empowered to control portion size.
The secret of Appetite Controller lies in a unique natural ingredient: glucomannan extract. This natural dietary fibre attracts water and turns to gel in the stomach. This gel presses against the stomachs walls thus helps you to feel fuller. Additionally, it contains naturally derived Black elderberry extract that gives the product a pleasant purple colour.
Facts For You
Proven to help people feel satisfied without overeating.
Made with ingredients from NutriCert™ certified sustainable farms.
Containing NutriCert™ Konjac Root (glucomannan) and NutriCert Black Elderberry.
No artificial sweeteners, colours, flavours or preservatives added.
Nutrilite has been the world's No. 1 selling vitamin and dietary supplements brand for the past 10 years.*
Suitable for vegetarians and vegans.
Product does not contain ingredients of animal origin.
* Source Euromonitor International Limited; Vitamins and Dietary Supplements category, % retail value share, 2015 data.
Key Features
Appetite Controller is proven to be an effective weight management product that helps you to control your portion size.
Appetite Controller uses natural ingredients: NutriCert™ Konjac Root (glucomannan) and NutriCert Black Elderberry with no added artificial sweeteners, colours, flavours or preservatives.
Appetite Controller is packaged in convenient single-serve sachets that make preparation and consumption easy.
For information on Usage, Ingredients or Nutritional Values please refer to the local language version.