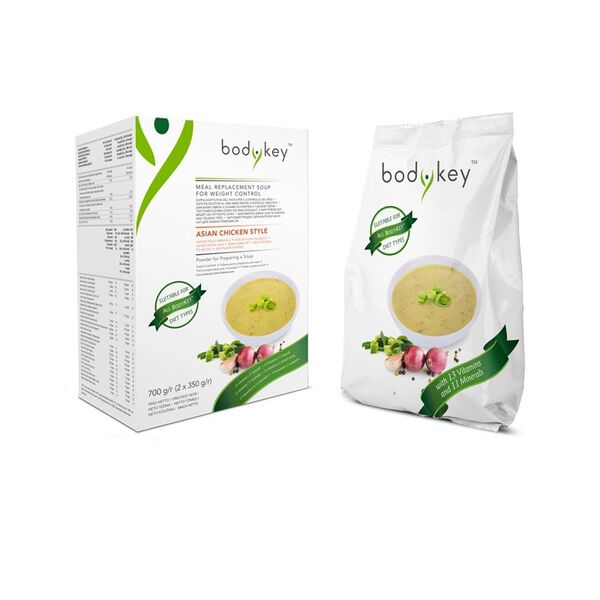 Make your weight-loss and healthy lifestyle goals a reality with this tasty and convenient soup.
What It Does For You
Conveniently supports your weight-loss objectives. Substituting 1 or 2 meals daily helps you achieve weight-loss or weight-maintenance goals.
Nourishes you with 13 vitamins and 11 minerals. Each serving provides one-third of the recommended daily intake of vitamins and minerals.
Complements an active lifestyle. Each serving can be prepared in minutes. Simply mix with hot water, add your favourite seasoning and enjoy!
Supports normal bodily functions like normal energy-yielding metabolism, macronutrient metabolism, digestive enzymes and muscle function.
Indulges your taste buds with a tantalising choice of delicious Asian Chicken and Champignon with Parsley flavours.
Why You Would Like It
Champignon with Parsley Meal Replacement Soup is a tasty and convenient alternative to lunch or dinner and fits seamlessly into even the busiest of schedules. Packed with vitamins and minerals, Meal Replacement Soup is the perfect way to help you achieve your weight-loss or weight-management goals while keeping your body well-nourished and your taste buds satisfied. Simply replace one or two regular meals daily with Meal Replacement Soup to keep you on track in the most delicious way.
Facts For You
Contains 13 different vitamins and 11 minerals.
One serving provides you with one-third of the recommended daily intake of vitamins and minerals.
No artificial flavours, colours and preservatives, gluten, palm oil, GMO ingredients.
Used 1-2 times daily to replace regular meals, it effectively supports weight loss or weight management.
Key Features
Specially formulated to provide your body with the nutrients it needs, while also satisfying your taste buds and keeping you firmly on track towards your weight-loss, weigh-management and healthy lifestyle goals.
Convenient and easy to prepare

, wherever and whenever you want. All you need is 50 g of soup powder and hot (but not boiling) water. It takes only a few minutes.

Naturally inspired and free from GMO, gluten and artificial colours, preservatives and flavours.
How To Use
Mix 50 g of Meal Replacement Soup powder (3 scoops or 3 table spoons) in 300 ml hot (but not boiling) water
Leave to soak for 3 minutes
Enjoy once daily in place of a regular meal to support weight-maintenance or twice to support weight loss.
Ingredients
Champignon with Parsley
Ingredients: Protein enriched Whey Powder (Milk), Whey Protein Concentrate (Milk), Maltodextrin, Fat Powder (Soya Oil, Maltodextrin, Milk protein, Emulsifier (Soya Lecithins)), Mushroom Extract Powder 5% (Maltodextrin, Mushroom extract 45%), Dextrin, dried Mushrooms 3%, Salt, Thickener (Guar Gum), Onion Powder 1.5%, Flavouring, Dipotassium Phosphate, dried Parsley 0.6%, Tricalcium Phosphate, Vitamin Preparation (Maltodextrin, Vitamin E (DL-alpha-Tocopheryl Acetate), Nicotinamide, Vitamin A (Retinyl-Acetate), D-Biotin, Calcium D-Pantothenate, Folic Acid (Pteroylmonoglutamic Acid), Vitamin D (Cholecalciferol), Vitamin B6 (Pyridoxine Hydrochloride), Vitamin B2 (Riboflavin), Vitamin B1 (Thiamin Hydrochloride)), Mineral Preparation (Maltodextrine, Ferric(III) pyrophosphate, Zinc Oxide, Manganese(II) Sulphate, Copper Carbonate, Potassium Iodide, Sodium Selenite), Magnesium Carbonate, Natural Onion Flavouring, Pepper, Vitamin C (Ascorbic Acid), Vitamin K1 (Phytomenadione). Can contain traces of Egg and Celery.
Nutritional value
Nutritional Value
Per 100 g Powder
Per serving (50 g + 300 ml Water)
Energy

1704 kJ

852 kJ

Energy

405 kcal

203 kcal

Fat

12,8 g

6,4 g

of which

Saturated Fatty Acids

3,2 g

1,6 g

Carbohydrates

41,9 g

20,9 g

of which Sugars

13,7 g

6,9 g

Fiber

6,6 g

3,3 g

Protein

27,1 g

13,6 g

Salt

2,7 g

1,3 g
100 g

Powder

NRV*

(%)

per Serving (50 g +300 ml Water)
NRV*

(%)

Vitamin A

650 μg

81

325 μg

41

Vitamin D

3,7 μg

74

1,9 μg

38

Vitamin E

10,3 mg

85

5,2 mg

43

Vitamin C

80 mg

100

40 mg

50
Thiamin (Vit. B1)

0,70 mg

63

0,35 mg

31
Riboflavin (Vit. B2)

1,80 mg

128

0,90 mg

64
Niacin (Vit. B3)

16 mg

100

8,0 mg

50
Vitamin B6

1,0 mg

71

0,50 mg

36
Folic acid

220 μg

110

110 μg

55
Vitamin B12

2,0 μg

80

1,0 μg

40

Biotin

30 μg

60

15 μg

30

Pantothenic acid

4,0 mg

66

2,0 mg

33

Vitamin K

62 μg

82

31 μg

41

Calcium

480 mg

60

240 mg

30

Phosphorus

600 mg

85

300 mg

42

Potassium

1300 mg

65

650 mg

32

Iron

12 mg

86

6,0 mg

43

Zinc

7,0 mg

70

3,5 mg

35

Copper

1,3 mg

130

0,65 mg

65

Iodine

190 μg

126

95 μg

63

Selene

80 μg

145

40 μg

73

Magnesium

225 mg

60

112 mg

30

Manganese

1,2 mg

60

0,6 mg

30
*NRV: nutrient reference value